When to dive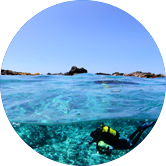 The Azores are in the moderate zone of the northern hemisphere, which means they benefit from an all year-round moderate climate. Cloudy skies and rainfall are possible throughout the year, but summer months – between June and September/October – typically feature sunny days and higher temperatures.
Air temperatures range 10ºC between winter and summer, with average temperatures varying between 16ºC and 26ºC, although maximum temperatures can peak at 28–30ºC in the summer. The softening influence of the Gulf Stream provides a more constant sea temperature, which ranges only 6ºC, with average temperatures between 16ºC and 22ºC and peaks reaching a maximum of 24-25ºC.
Water visibility can be significantly different depending on when you visit. It never reaches very low figures but for divers the best time of the year to visit the Azores is during the summer months, between June and September. Thanks to the combination of various climate factors; higher air and water temperatures, longer sunny periods, less rainfall, calmer winds and clearer waters, there is an increased number of pelagic species and the water is beautifully warm. August to September/October offers the best visibility – often exceeding 30 metres. In contrast, spring divers will find the large amounts of nutrients in the water have turned it slightly green. Visibility at this time of year drops to an average of 10-15 metres.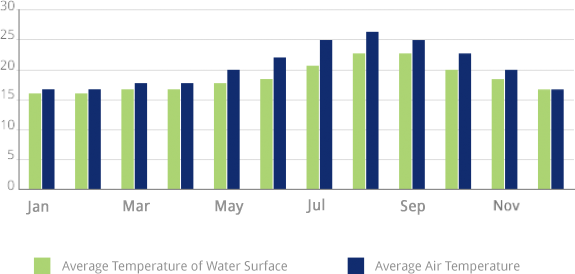 Wet or semi dry suit 5 mm/7 mm
Wet, dry or semi dry suit 7 mm/10 mm