Diving in the Azores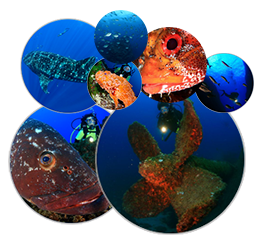 Imagine a place where whale sharks swim through crystal clear waters beneath you, dozens of devil rays swoop above and curious blue sharks and huge pelagic fish explore the water with you. This is diving in the Azores, a remote archipelago of nine islands that sit in the Atlantic just a few hours from mainland Europe and North America. Regularly voted a top destination by travel guides, this largely undiscovered paradise offers a huge variety of dive sites, rich in abundant marine life and full of once in a lifetime experiences.
The Azores' isolated location in the North Atlantic means they are one of the best places for whale and dolphin watching in the world. As part of a volcanic ridge, visitors are also drawn to the islands incredibly diverse and fertile landscapes, with each landmass offering something different – from crater lakes and waterfalls to huge caverns, sheer cliffs and fajas (flat, low lying strips of land that jut out into the sea). For divers the volcanic geography, nutrient rich terrain, clear Atlantic waters (offering visibility at an impressive 30 metres) and remote location mean optimum diving opportunities.
Warmed by the nutrient-rich currents of the sub-tropical Gulf Stream, the unique geography provides the perfect home for a huge array of smaller fish as well as several large marine species. There are five kinds of sea turtle, over 24 different species of cetaceans and about 600 types of fish, including large schools of pelagic fish, several species of sharks, graceful manta and devil rays as well as friendly dusky groupers.
You can dive on all the islands of the archipelago and each one is as different underwater as it is on land, for example whale sharks on one, blue sharks on another. There are impressive natural arches formed by ancient lava flows in some locations, whilst in others there are deep caves formed by several interconnecting chambers. World War II shipwrecks lie on the ocean floor close to one island and near another the remains of 15th and 16th century shipwrecks can still be explored. It means that divers can enjoy all aspects of diving – from coastal to wreck dives as well as cave and shark dives. If this wasn't enough, the Azores offer an even greater dive opportunity, with access to isolated seamounts where you can see dozens of devil rays and large schools of pelagic fish.
Coastal marine life is characterised by the presence of friendly dusky groupers, curious schools of grey triggerfish as well as several species of small, colourful nudibranchs. Octopuses and moray eels hide between the rocks and brightly coloured small fish such as the Mediterranean rainbow wrasse, the ornate wrasse, the Azores chromis, the Mediterranean parrotfish and many others appear even more vivid against the black rock seafloor. At greater depths, red scorpion fishbarred hogfish and reef fish swim around the large stretches of black coral. With so much to see it is easy to forget about the seafloor, but don't as the water column is often filled by schools of yellowmouth barracudas, Almaco jacks, white trevallies and if you are lucky, majestic devil rays, turtles or ocean sunfish.
On the seamounts you can dive with larger marine life. The islands are part of the Mid-Atlantic ridge, a chain of submarine volcanoes, and there are underwater elevations – seamounts - that were either islands swallowed up by the sea or part of the ridge that did not break the surface. Many are too deep or far from the islands to visit, but there are some that can be explored including the Princess Alice Bank, the Dom João de Castro Bank, the Formigas Islets, and the Dollabarat Reef. They feature a unique variety of marine ecosystems with an abundance of common species as well as large schools of pelagic fish, dozens of graceful devil rays and even some species of cetaceans. Schools of sometimes thousands of beautiful, large Almaco jacks patrol the seafloor and hundreds of yellowmouth barracudas appear still in the water column observing the divers. It is a unique experience and truly places the Azores at the top of the list of world dive destinations.