Panela
Description
Access
Boat
15 minutes from the Vila Franca do Campo Marina, 35 minutes from the Ponta Delgada Marina
Coast
Caloura, Cerco da Caloura
Ideal place for
Underwater photography
Snorkeling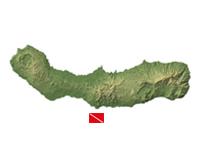 Panela
Panela is located about 100 metres from Água de Pau in front of an area called Cerco da Caloura, on the south coast of the island of São Miguel. You can access this site both from the shore and by boat. There are some areas that are only 5-10 metres deep, which is perfect for snorkellers, although it is only recommended when the seas are calm.
There are several arches and caves to explore, but the main attraction is a large cavern with two entrances. The opening is at a depth of 10 m and, after entering it, you can go down to a depth of 17 metres to reach the bottom. The light effects created by the two entrances above you are stunning.
Inside the cavern you can sometimes find large congers (Conger conger) and colourful cardinal fish (Apogon imberbis), Madeira rockfish (Scorpaena maderensis), Guinean puffers (Sphoeroides marmoratus) and several species of nudibranches.