Portinhos da Urzelina

Description
Access
Boat
20 min from the Velas Harbour
Coast
15 min by car from Vila das Velas
Ideal place for
Night dive
Underwater photography
Diving Baptism
Snorkeling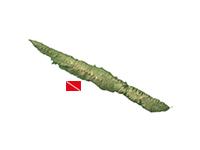 Portinhos da Urzelina
This is an easy dive that takes place at a depth of between 8 and 14 metres in a very sheltered area with few currents. It is also directly accessible from the coast, with an entrance from the tide pools of Urzelina (Portinhos). It is a great place for beginner dives, night dives and snorkelling.
Despite the proximity to the coast, this site offers some great caves and caverns. Heading west from the tide pools, you will find several of these that can be reached without descending far. The one that stands out is a wide cavern located at a depth of 8 metres. Although it appears to be a cave, as you swim into the cavity you will see that it turns into a large cavern, with an opening in the ceiling that lets the natural light in. The interesting cone of light is surrounded by large colonies of colourful yellow cluster anemone (Parazoanthus axinellae).
Heading south, the depth increases gradually to 14 metres, where you will find common species of the Azores seafloor, including several types of moray eels, ornate wrasses (Thalassoma pavo), Azores chromis (Chromis limbata), Canary damsels (Abudefduf luridus), parrotfish (Sparisoma cretense) and small schools of salema porgies (Sarpa salpa). You may also spot occasional common stingray (Dasyatis pastinaca) lying still at the bottom.