Lourenços

Description
Access
Boat
50 minutes from the Ponta Delgada Marina, 80 minutes from the Vila Franca do Campo Marina
Ideal place for
Diving Technical
Underwater photography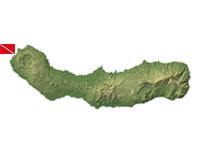 Lourenços
This dive site is only recommended for experienced divers. The top of the reef is 24 metres deep, and the strong currents that can occur at this site make the dive more complex. It is a great spot for technical dives as the seafloor is at a depth of 60 metres.
Located about two nautical miles west of the island of São Miguel, and 13 miles from the Ponta Delgada Marina, the Baixa dos Lourenços (Lourenços Reef) is one of the best dives for observing pelagic fish such as yellowmouth barracudas (Sphyraena viridensis), Almaco jacks (Seriola rivoliana), white trevallies (Pseudocaranx dentex) and even devil rays (Mobula tarapacana) during the  summer months.
Along the top of the reef, between 24 and 30 metres, you can see an abundance of demersal species, such as large red scorpionfish (Scorpaena scrofa), lying still over the rocks. There are also several species of moray eels. The edges of the reef are the ideal place for spotting schools of pelagic species.