Ilhéu do Topo - Sul

Description
Access
Boat
75 min from the Velas Harbour
Ideal place for
Underwater photography
Snorkeling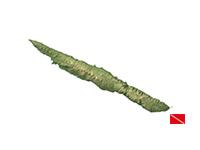 Ilhéu do Topo - Sul
Although this dive takes place at a moderate depth (between 5 and 22 metres), it is often affected by strong currents as it is right on the tip of the island. When currents are more forceful, it is only recommended to those with diving experience.
The small Ilhéu do Topo (Topo Islet) is an area of 20-hectares, located on the eastern tip of the island of São Jorge, just 100 metres from the coast. It is considered to be one of the island's best dive sites. Although lying close to the shore, to reach the dive site you must take a 75 minute boat trip from Velas Harbour, 25 miles away.
The area near and to the south of the islet features a soft slope, with the seafloor lying at 5 to 10 metres. Here you can see an exceptional amount of common species of the Azores sea, including different varieties of moray eels, Mediterranean rainbow wrasses (Coris julis), ornate wrasses (Thalassoma pavo), Azores chromis (Chromis limbata), Canary damsels (Abudefduf luridus) and common octopus (Octopus vulgaris).
At around 20 metres, you reach ideal territory for spotting large schools of pelagic fish; yellowmouth barracudas (Sphyraena viridensis), Atlantic bonitos (Sarda sarda), white trevallies (Pseudocaranx dentex), bluefish (Pomatomus saltator) and Almaco jacks (Seriola rivoliana) are regular visitors to this spot. There is also a lot of life near the ocean floor, including dusky groupers (Epinephelus marginatus), barred hogfish (Bodianus scrofa) and island groupers (Mycteroperca fusca).