Ilhéu do Topo - Norte

Description
Access
Boat
75 min from the Velas Harbour
Ideal place for
Underwater photography
Snorkeling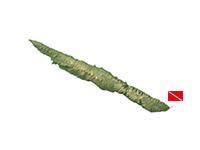 Ilhéu do Topo - Norte
Although this dive only reaches moderate depths of between 5 and 22 metres, it is often affected by strong currents as it is on the tip of the island and diving experience is recommended. The small Ilhéu do Topo (Topo Islet) is a 20-hectare area and is located on the eastern tip of the island of São Jorge, just 100 metres from the coast. It is considered to be one of the island's best dive sites as although it is close to the shore, it is not easily reached by visitors and you must take a 75 minute boat trip from Velas Harbour, 25 miles away.
Along with the Rosais Reef, it is one of the best places on the island to spot pelagic fish, including large schools of Atlantic bonitos (Sarda sarda), Almaco jacks (Seriola rivoliana), white trevallies (Pseudocaranx dentex), bluefish (Pomatomus saltator), yellowmouth barracudas (Sphyraena viridensis) and, if you are lucky, large wahoos (Acanthocybium solandri) lying still in the water column.
In the deeper areas, at around 20-25 metres, you will find dusky groupers (Epinephelus marginatus), barred hogfish (Bodianus scrofa), and island groupers (Mycteroperca fusca).