Gruta dos Enxareús

Description
Access
By boat
10 min from the Santa Cruz Quay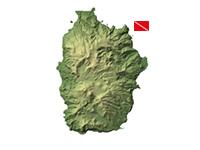 Gruta dos Enxareús
This dive site is located on the edge of a sheltered bay and although it does not feature great depths, the exploration of its long caves is restricted to experienced divers.
At the wide entrance of the imposing cave, you can often see majestic common stingrays (Dasyatis pastinaca) entering or exiting one of the two 30-metre long corridors into which the cave is divided. These narrow corridors are a little over 1 metre wide in some places and it is usual for divers to come across large stingrays (often in groups of more than half a dozen) when exploring them.
Once outside the cave you are in a small natural bay and can explore the seafloor, where there are quite a few schools of grey triggerfish (Balistes carolinensis), white trevallies (Pseudocaranx dentex) and Almaco jacks (Seriola rivoliana).