Furnas de Santo António
Description
Access
Coast
25 min by car from Madalena
Ideal place for
Night dive
Underwater photography
Diving Baptism
Snorkeling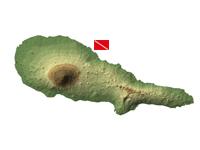 Furnas de Santo António
You access the Furnas de Santo António (St. Anthony's Caves) through the namesake pools close to the town of São Roque. This is an easy dive located in a sheltered and shallow area, accessible to all divers and suitable for snorkelling.
With an initial depth of 3 metres, you start spotting marine life as soon as you reach the wall that leads to the end of the bay. In this area, about 10-15 metres deep, the landscape comprises several large rocks that host common species such as parrotfish (Sparisoma cretense), common octopuses (Octopus vulgaris), salema porgies (Sarpa salpa), ornate wrasses (Thalassoma pavo) and several species of moray eels.
At the edge of the wall is an arch of considerable dimensions, about 8 metres wide with a 10-metre long ceiling that has an opening in the middle. This floods the cave with natural light.
Reaching this point, divers have 2 options: to continue along the coast to a natural bay located to the west, returning to the starting point on foot, or turn around and return by the same route.