Cinco Ribeiras
Description
Access
Coast
15 minutes by car from Angra do Heroísmo, 35 minutes from Praia da Vitória
Ideal place for
Night dive
Underwater photography
Diving Baptism
Snorkeling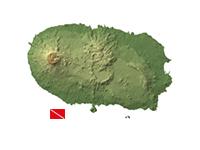 Cinco Ribeiras
This dive is in a sheltered site with a low depth, which makes it easily accessible to divers with all levels of experience. It is also suitable for snorkelling. Please note though, part of this dive has a series of complex caves and these are reserved for more experienced divers only.
The Cinco Ribeiras swimming pool provides access to the caves of Terceira Island, which are formed by several extensive galleries connected by corridors and small spaces.
The dive starts inside the tide pool and as depth increases you can swim close to the rocky wall on your right. It is common to spot large common stingrays (Dasyatis pastinaca) here as they are abundant in this area, as well as large schools of salema porgies (Sarpa salpa).
Continuing on, you will arrive at the entrance to the caves. In the first one you are likely to see several species of moray eels and nudibranchs, with walls covered by narwal shrimp (Plesionika narval). This cave connects to two larger chambers, where you can often spot forkbeards (Phycis phycis) feeding on narwal shrimp, and colourful red cardinal fish (Apogon imberbis).
Divers may continue along, exploring the caves until they come across the exit on the opposite side. You can return on the outside by following a wall full of life to your left, or through the complex of caves taking the opposite route.