Cemitério das Âncoras

Description
Access
Boat
3 min from the Angra do Heroísmo Harbour, 45 minutes from Praia da Vitória
Ideal place for
Night dive
Underwater photography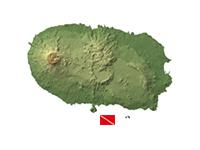 Cemitério das Âncoras
The Cemetery of Anchors is one of the most iconic dive sites of the Azores. Part of the Underwater Archaeological Park of the Bay of Angra do Heroísmo, it has undeniable historical importance. The Park has several archaeological sites, with the Cemetery of Anchors one of the best known. Over 40 anchors have been left here throughout several centuries and although many can be visited by all levels of diver and snorkellers, dives to the deepest anchors are only recommended to those with experience.
Only 3 minutes away by boat from Angra do Heroísmo Harbour, you will find 2 buoys that signal the place where this dive starts. The northernmost buoy takes you to a depth of 16 metres, to the 555 anchor, which lies over a large rock. Continuing to the southwest, you will find several different anchors as you swim towards a vertical wall that drops to a sandy stretch of seafloor. From here it is possible to spot several species of fish, including Moroccan white seabreams (Diplodus sargus), young axillary seabreams (Pagellus acarne), large dusky groupers (Epinephelus marginatus), Mediterranean morays (Muraena helena), salema porgies (Sarpa salpa), Almaco jacks (Seriola rivoliana) and even common stingrays (Dasyatis pastinaca).
If you descend along the wall to a depth of 35metres, you will find a huge anchor in the inverted position.