Catedral

Description
Access
By boat
2 min from the Santa Cruz Quay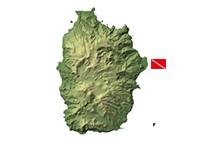 Catedral
With depths ranging between 6 and 30 metres, depending on the dive profile you choose, this site is accessible to all divers and is suitable for snorkelling.
The Catedral dive site owes its name to two impressive rock formations that resemble an imposing cathedral. Although this site lies very close to the entrance to the Santa Cruz Quay, it offers great quality in terms of species variety, and is scenically very interesting.
Access to the main attraction of this dive is from the top of the reef, between 6 and 8 metres. The reef drops vertically to a large crack at about 15 metres deep, which provides access to a large cave on one side (north) and a large arch on the other (south). From the sandy floor inside the cave you can see the large arch some 5-10 metres away. There are also some interesting stretches of black coral (Antipathes wollastoni).
Crossing the arch, the bottom falls to 30 metres, and here you can see large dusky groupers (Epinephelus marginatus) and barred hogfish (Pseudolepidaplois scrofa).
Returning to the top of the reef you are at the perfect depth of 6 metres to perform any decompression or safety stops whilst spotting the small colourful fish that circulate around the top of the reef.