Caneiro dos Meros

Description
Access
By boat
3 min from the Vila do Corvo Quay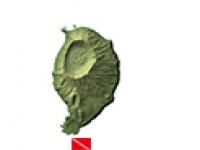 Caneiro dos Meros
Although this site is close to the coast and the quay, so is not exposed to strong currents, it is only recommended for experienced divers because of the depths involved.
The Caneiro dos Meros (Dusky Grouper Passageway) is the only voluntary reserve of the Azores, created more than a decade ago by an agreement between fishermen and divers due to the presence of large and friendly dusky groupers in this site.
Located about 150 metres from the coast, in front of the quay of Vila do Corvo, it is known today as the dive site with the highest concentration of dusky groupers (Epinephelus marginatus), and it is possible to dive with more than a dozen of these curious giants at one time.
As fishing is forbidden in this site, marine species thrive and along with the abundance of dusky groupers, you will also spot a great concentration of fish that are rare in the seas of the Azores, both in terms of demersal and pelagic fish.
This dive is performed along several large ravines or 'caneiros' formed by lava flows, with some sandy patches located at depths of between 18 and 25 metres. Heading to the open sea, the wall of the last ravine drops to a sandy seafloor located at 40-45 metres where it is possible to see both large dusky groupers and barred hogfish (Pseudolepidaplois scrofa).