Cachorro

Description
Access
Boat
15 min do Porto da Madalena
Coast
5 min by car from Madalena
Ideal place for
Night dive
Underwater photography
Diving Baptism
Snorkeling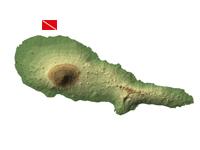 Cachorro
The Cachorro dive site is located between the towns of São Roque and Madalena in a unique bathing area on the north coast of Pico Island; it is the place for Beginner dives, night dives and snorkelling.
The main feature of this site is the maze of arches and tunnels, where you will find many Mediterranean rainbow wrasses (Coris julis), ornate wrasses (Thalassoma pavo), parrotfish (Sparisoma cretense), Azores chromis (Chromis limbata) and Canary damsels (Abudefduf luridus).
You start diving along a gentle descent that takes you down to 18 metres, passing by arches and tunnels that are home to schools of thick-lipped grey mullet (Chelon labrosus), salema porgies (Sarpa salpa), giant doris (Hypselodoris picta) and many other species of nudibranchs, before reaching the bottom.
If you explore the cracks of the arches and the pebble seafloor, you will spot the natural inhabitants of this type of ocean bed, such as common octopuses (Octopus vulgaris), black moray eels (Muraena augusti) and shy Mediterranean slipper lobsters (Scyllarides latus).
You should also not neglect the water column, where it is possible to spot schools of pelagic species and common stingrays (Dasyatis pastinaca) resting on the bottom.