Boca das Caldeirinhas

Description
Access
Boat
10 min from the Horta Harbour
Ideal place for
Diving Technical
Underwater photography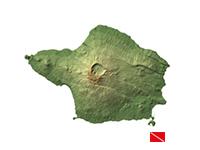 Boca das Caldeirinhas
This dive is accessible to all divers. Depending on the circuit, depths vary between 7 and 50 metres, making it suitable for snorkelling, shallow dives and even technical dives.
The Boca das Caldeirinhas is considered to be one of the best coastal dives of Faial and gets its name from the opening of the volcanic crater of Guia Hill, which connects to the sea in the south. The interior of the crater is a protected area with restricted access, which leads to an abundance of life along the border area, which is where the dive takes place.
Between the crater and the sea, there is a long and large platform located at a depth of 10 metres, where you can spot an exceptional number of several species of moray eels, ornate wrasses (Thalassoma pavo) and parrotfish (Sparisoma cretense). This platform then drops along a vertical wall to a depth of about 30 metres, where you can also see large dusky groupers (Epinephelus marginatus) and occasional barred hogfish (Bodianus scrofa). As you complete the dive to a depth of about 50 metres, you will also be able to explore a small cave with a large stretch of black coral (Antipathella wollastoni).