Baixa do Sul
Description
Access
Boat
10 min do Porto da Madalena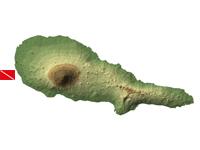 Baixa do Sul
The third of the three reefs located in the Pico-Faial channel, the Baixa do Sul (South Reef) is the longest and shallowest, with quite spectacular geological formations.
Located far from the coast of Pico Island, about three miles from the Madalena Islets, there are often strong currents at this site, which means conditions are ideal for spotting a large variety of fish, especially large pelagic species.
The Baixa do Sul starts at a depth of 6 metres, where you are immediately faced with a unique landscape of extensive rock platforms at different depths. These take you all the way down to 50 metres.
As you begin to explore the platforms, you will find a curious geological phenomena, known as 'erosion calderas' or 'giant's holes', which can be up to 8 metres deep and 3 metres wide.
At any depth from 6 to 50 metres, you can see pelagic species: bluefish (Pomatomus saltator), Atlantic bonitos (Sarda sarda), skipjack tunas (Katsuwonus pelamis), white trevallies (Pseudocaranx dentex), yellowmouth barracudas (Sphyraena viridensis), and Almaco jacks (Seriola rivoliana).
You may also see majestic devil rays (Mobula tarapacana) or ocean sunfish (Mola mola) gliding around the reef.