Baixa do Farol

Description
Access
Boat
10 minutes from the Santa Cruz da Graciosa Harbour, 25 minutes from the Praia Harbour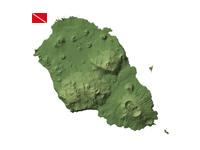 Baixa do Farol
Known as Baixa do Farol (Lighthouse Reef), this dive site is located on the north coast of the island of Graciosa about 100 meters from the shore, in front of the Ponta da Barca Lighthouse after which it is named. With moderate depths, it is an excellent spot for divers with all kinds of experience, especially on days with south wind and waves.
The top of this long reef lies at a depth of 14-15 metres, where it is common to see several species, both demersal and as part of schools swimming in the blue. The most common ones are salema porgies (Sarpa salpa), grey triggerfish (Balistes capriscus), several species of moray eels, blacktail combers (Serranus atricauda), parrotfish (Sparisoma cretense) and the Azores chromis (Chromis limbata).
Heading north you will find a second reef with the top 17 metres deep, dropping to 25 metres. There is a small cave at this reef, which is the ideal place for spotting species like dusky groupers (Epinephelus marginatus) and barred hogfish (Bodianus scrofa) that live at a greater depth. You can also look at stretches of black coral (Antipathella wollastoni).