Baixa da Sr.ª da Guia

Description
Access
Boat
15 minutes from the Santa Cruz da Graciosa Harbour, 2 minutes from the Praia Harbour
Ideal place for
Underwater photography
Snorkeling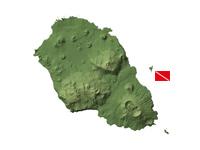 Baixa da Sr.ª da Guia
The small Baixa da Senhora da Guia (Our Lady of the Guide Reef) is located about 200 metres from the town of Praia and only 50 meters from the Praia Islet. With depths ranging between 3 and 32 meters, depending on the diving profile you choose, this site is accessible to all divers.
The top of the reef forms a platform that lies between three and eight metres, where you can find a great variety of small colourful fish that surround the top of the reef like a cloud. Mediterranean rainbow wrasses (Coris julis), ornate wrasses (Thalassoma pavo), Azores chromis (Chromis limbata), several species of moray eels, barnacles occupied by Mystery blennies (Parablennius incognitus) and colourful colonies of yellow cluster anemone (Parazoanthus axinellae) are just some of the abundant marine life at this low-depth site.
From the platform, the reef falls away vertically. At 16 metres you will find a small cave and a large stretch of black coral (Antipathella wollastoni), as well as occasionally a dusky grouper (Epinephelus marginatus) – something that you may see more of as you descend to the deepest part of the dive (around 30 metres).