Baía de Entre Montes

Description
Access
Boat
5 min from the Horta Harbour
Ideal place for
Night dive
Underwater photography
Diving Baptism
Snorkeling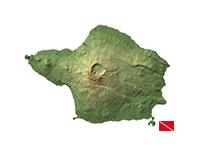 Baía de Entre Montes
Located in a shallow bay sheltered from the wind and currents, with a minimum depth of 6 metres and a maximum of 20, the Baía de Entre Montes (Bay Between Hills) is an excellent spot for all types of dives, including snorkelling, night dives and beginner dives.
Starting along the wall of the imposing Guia Hill, it gradually increases in steepness to seven metres, where you will start witnessing marine life in the cracks and holes of the rock formation. Several species of moray eels, common octopuses (Octopus vulgaris), colourful jewel anemones (Corynactis viridis), hermit crabs (Calcinus tubularis and Dardanus callidus) and several species of nudibranchs can all be spotted here.
At a depth of 15 metres, when the rock slabs and sandy floor come together, you have the perfect opportunity to spot species that are often disguised by the sand, including wide-eyed flounders (Bothus podas), Atlantic lizardfish (Synodus saurus), pearly razorfish (Xyrichthys novacula) and surmullets (Mullus surmuletus). The common stingrays (Dasyatis pastinaca) are more common over the sandy seafloor in the deepest part of the dive (20 metres), where you can also spot an occasional dusky grouper (Epinephelus marginatus) and some schools of fish passing by.