Radares
Description
Access
Boat
5 minutes from the Horta Harbour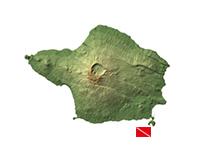 Radares
Located on the eastern edge of the bay of the Guia Hill, this spot is close to the dive sites Baía de Entre Montes and Canhões de Entre Montes. This particular site features greater depths, and because it is outside the protection of the bay, is subjected to moderate currents. It is  only recommended for experienced divers.
The bottom is located 12 metres down, gradually dropping to a depth of 30 metres with large slabs and a mixed seafloor of rock and sand, where you will find many species typical of the Azores sea; this includes large schools of salema porgies (Sarpa salpa), black moray eels (Muraena augusti), blacktail combers (Serranus atricauda), ornate wrasses (Thalassoma pavo) and the Azores chromis (Chromis limbata).
The sandy area is the ideal place to find species that are like to dwell on the seafloor. Large common stingrays (Dasyatis pastinaca), small wide-eyed flounders (Bothus podas) and Atlantic lizardfish (Synodus saurus) can all be found here. At the end of the deeper rock formations you can see schools of pelagic fish, including yellowmouth barracudas (Sphyraena viridensis) and bluefish (Pomatomus saltator).