Pedra Perdida

Description
Access
Boat
15 min from the Praia da Vitória Harbour, 45 minutes from the Angra do Heroísmo Harbour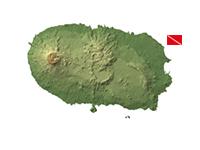 Pedra Perdida
Known as Pedra Perdida (Lost Rock), this dive site is located in an exposed area with strong currents and depths ranging from between 16 and 30 metres. It is recommended for divers with some experience.
The Pedra Perdida is a big rocky pinnacle that rises from a depth of 22 metres to 12 metres. The site is about 15 minutes away by boat from the Praia da Vitória Harbour. Close to the rock formation you will see many Azores chromis (Chromis limbata) and if you dive half way down, you can see brilliant Bermuda chubs (Kyphosus sectator), Almaco jacks (Seriola rivoliana) and yellowmouth barracudas (Sphyraena viridensis), all appearing static in the water column.
By exploring the cracks and holes you can see other species such as dusky groupers (Epinephelus marginatus). Continuing down, you will spot two big rock formations close to the bottom, where you are likely to see large blacktail combers (Serranus atricauda), black moray eels (Muraena augusti), Mediterranean morays (Muraena helena), schools of salema porgies (Sarpa salpa), Azores chromis (Chromis limbata) and Canary damsel (Abudefduf luridus).