Ilhéu do Garajau

Description
Access
By boat
10 min from the Santa Cruz Quay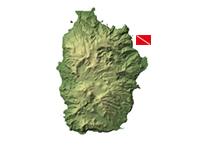 Ilhéu do Garajau
Starting at the wall of the small Ilhéu do Garajau (Tern Islet), about 400 metres from the coast, this site drops to a maximum depth of 30 metres and is a great place for all divers. It is also suitable for snorkelling, depending on the circuit you choose.
Starting on the west side of the islet is a reef that forms a wall that separates the north and south side. This means it is always possible to shelter from the current.
Continuing along the wall depth increases rapidly to 30 metres, and it is possible to see an amazing variety of species such as large moray eels as well as some curious dusky groupers (Epinephelus marginatus) amidst clouds of Azores chromis (Chromis limbata), blue jack mackerels (Trachurus picturatus) and large schools of grey triggerfish (Balistes carolinensis).
In shallower areas, there are different species that are typical of Azorean waters, such as ornate wrasses (Thalassoma pavo), parrotfish (Sparisoma cretense), Madeira rockfish (Scorpaena maderensis), schools of salema porgies (Sarpa salpa), and blacktail combers (Serranus atricauda).