Ilhéu da Urzelina

Description
Access
Boat
20 min from the Velas Harbour
Ideal place for
Night dive
Underwater photography
Diving Baptism
Snorkeling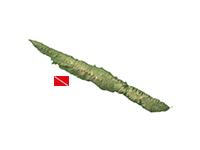 Ilhéu da Urzelina
This is an easy dive that starts at an islet, with depths ranging between the surface and 14 metres. Located less than 150 metres from the quay of Urzelina, this is a great place for beginner dives, night dives and snorkelling.
Starting the dive at the Ilhéu da Urzelina (Urzelina Islet), the seafloor is about 10 metres deep. Although marine life around the islet is not the most abundant, along one of its walls (facing south), there is a cave where you will find dusky grouper (Epinephelus marginatus), moray eels, colourful cardinal fish (Apogon imberbis), Azores chromis (Chromis limbata) and ornate wrasses (Thalassoma pavo).
A few hundred metres west of the islet, you will find two small, 10-metre wide rocky arches where you can see schools of salema porgies (Sarpa salpa), blacktail combers (Serranus atricauda), ballan wrasses (Labrus bergylta) and parrotfish (Sparisoma cretense) as well as the occasional barred hogfish (Bodianus scrofa).