Ilhéu da Mina

Description
Access
Boat
25 min from the Angra do Heroísmo Harbour, 20 minutes from the Praia da Vitória Harbour
Ideal place for
Underwater photography
Snorkeling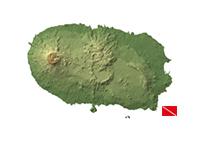 Ilhéu da Mina
This dive starts close to the surface near the islet and, depending on the circuit you choose, features some deep areas. This makes it suitable for divers with any type of experience, as well as snorkellers.
About 20 metres in length, the Ilhéu da Mina (Mina Islet) is close to the Vila de São Sebastião and to the coast (about 50 metres away).
As you leave the shallower waters around the islet, you will find a vertical wall that takes you to a depth of 20 metres and from here you can go across several wide ravines. In the water column it is common to find schools of yellowmouth barracudas (Sphyraena viridensis) and Almaco jacks (Seriola rivoliana) feeding on schools of small blue jack mackerels (Trachurus picturatus). Continuing this route, you will go from the islet to a nearby reef that rises from a depth of 25 metres to just 3 metres.
If you approach the reef from the south you will be able to descend down to 35 metres and find a pinnacle-shaped rock formation that is about 15 metres high, as well as some big stretches of black coral (Antipathella wollastoni) and often the occasional dusky grouper (Epinephelus marginatus).