Gruta do Ilhéu das Cabras

Description
Access
Boat
10 min from the Angra do Heroísmo Harbour, 35 minutes from the Praia da Vitória Harbour
Ideal place for
Underwater photography
Snorkeling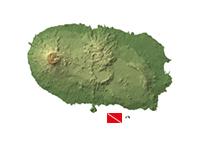 Gruta do Ilhéu das Cabras
Although this is known as a cave site, the size of the cavern means you can actually enter the space by boat. Because of this it does not require any experience or special certification, and it is also an excellent place for snorkelling.
The Ilhéu das Cabras (Sheep Islet) lies half a nautical mile from the south coast of Terceira Island. The Cave of the Sheep Islet, or the Cave of Stingrays, is located on the north slope of the islet, and it takes its name from the common summer sightings of up to a dozen stingrays (Myliobatis aquila and Taeniura grabata) swimming inside.
The entrance to the cave is located at 15 metres, and once inside this rises to about 12 metres. From the interior you can see a magnificent backlight which is often filled by the shadows of stingrays swimming inside.
Leaving the cave, you can explore the deepest part of the site at 24 metres, where besides the common fauna from the Azores seafloor, you can see schools of pelagic fish such as Almaco jacks (Seriola rivoliana), yellowmouth barracudas (Sphyraena viridensis) and bluefish (Pomatomus saltator).