Fradinhos

Description
Access
Boat
20 Minutes from the Angra do Heroísmo Harbour, 35 minutes from the Praia da Vitória Harbour
Ideal place for
Diving Technical
Underwater photography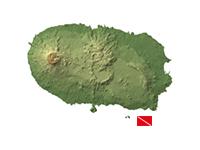 Fradinhos
This site is only for experienced divers as it is a considerable distance from the coast, which also means greater depth and strong currents.
Fradinhos are a set of islets located 5 nautical miles to the southeast of Terceira Island and Porto de Pipas, and are the submerged top of an underwater volcanic cone. This dive site is known both for the abundance of demersal species and for the presence of large pelagic fish.
Throughout the journey, you will find a great number of species that are typical of the Azores seafloor, with the bottom progressively descending until it passes 60 metres. You can spot clouds of colourful Azores chromis (Chromis limbata), large blacktail combers (Serranus atricauda) and parrotfish (Sparisoma cretense).
From 30 metres on there are lots of stretches of black coral (Antipathella wollastoni), along with imposing dusky groupers (Epinephelus marginatus), colourful barred hogfish (Bodianus scrofa) and large red scorpionfish (Scorpaena scrofa). It is also common to find large schools of pelagic fish, including Almaco jacks (Seriola rivoliana), bluefish (Pomatomus saltator), yellowmouth barracudas (Sphyraena viridensis) and even graceful devil rays (Mobula tarapacana).