Espalamaca Norte

Description
Access
Boat
10 min from the Horta Harbour
Ideal place for
Night dive
Underwater photography
Diving Baptism
Snorkeling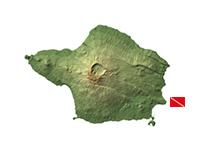 Espalamaca Norte
The Espalamaca Norte dive, next to the Almoxarife Beach and protected by the Espalamaca Headland, is a sheltered site that starts at a depth of six metres, gently progressing down to 14 metres. It is a very convenient site for the days when conditions prevent other dives, or if you want to try night dives or snorkelling.
The dive starts in the shallow areas, where it is possible to spot several species. Colourful ornate wrasses (Thalassoma pavo), Mediterranean rainbow wrasses (Coris julis) and Moroccan white seabreams (Diplodus sargus) stand out, but throughout the descent you may find several species of moray eels, common octopus (Octopus vulgaris)  and large schools of salema porgies (Sarpa salpa).
Close to 14 metres there is a curious volcanic phenomenon; small air bubbles emerge from the sandy seafloor, a reminder of the ongoing volcanic activity of this area. Among the bubbles bursting out of the sand, you can see common stingrays (Dasyatis pastinaca), Atlantic lizardfish (Synodus saurus) and wide-eyed flounders (Bothus podas).