Corais de São Caetano

Description
Access
Coast
30 min by car from Madalena
Ideal place for
Night dive
Diving Technical
Underwater photography
Diving Baptism
Snorkeling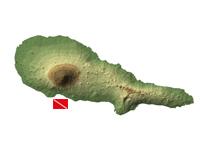 Corais de São Caetano
The Parede de São Caetano (St. Cajetan's Wall) is reached directly from the shore and is one of the most interesting and accessible dives that you can find on the island of Pico. Depending on the route you choose, this location is ideal for snorkelling, beginner dives, night dives and even some technical dives.
On the south coast of the island, accessed from the fishing port of the village of São Caetano, this dive begins at shallow depths (3 metres) on a sandy and pebble seafloor, but you quickly reach greater depths.
As you reach 15 metres, you will find a large wall that goes down to a depth of 60 metres. This wall is coated with black coral (Antipathella wollastoni), and in its cracks and holes there are curious Mediterranean morays (Muraena helena), black moray eels (Muraena augusti) and brown morays (Gymnothorax unicolor). You will also find dusky groupers (Epinephelus marginatus) and the solitary barred hogfish (Bodianus scrofa).
During this dive you will often see schools of fish passing by in the water column, including yellowmouth barracudas (Sphyraena viridensis).