Cabeços do Ilhéu

Description
Access
Boat
10 minutes from the Vila Franca do Campo Marina, 50 minutes from the Ponta Delgada Marina.
Ideal place for
Diving Technical
Underwater photography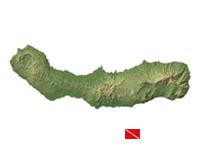 Cabeços do Ilhéu
The Cabeços do Ilhéu dive is only recommended for experienced divers as there are strong currents and parts of the dive are quite deep.
There are four reefs in this area, all of them offering excellent opportunities for technical dives, but this is the most popular because at less than one mile from the Vila Franca do Campo Islet, it offers the best opportunities for spotting demersal species.  
The top of the reef is located at a depth of approximately 25 metres and is covered with large stretches of black coral (Antipathes wollastoni). The star attractions are the several large dusky groupers (Epinephelus marginatus) and barred hogfish (Pseudolepidaplois scrofa) that are regularly sighted here.
On the edge of the reef, which drops to about 45 metres, you can often see impressive schools of pelagic fish such as Almaco jacks (Seriola rivoliana) and yellowmouth barracudas (Sphyraena viridensis). In the summer, devil rays (Mobula tarapacana) also join the mix, slowly swimming in and out of the blue.