Baixa Rasa
Description
Access
by boat
10 min from the Fajã Grande Quay
Ideal place for
Underwater photography
Snorkeling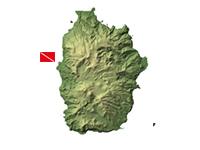 Baixa Rasa
A dive in the Baixa Rasa (Shallow Reef) starts on a small islet on the northwest coast of the island of Flores, 500 metres away from the shore and 2 nautical miles from the Fajã Grande Quay. It is only advisable for divers with some experience as this spot is prone to strong currents and there is some depth involved.
This is one of the best places on the island to see large schools of pelagic species in the blue, including bluefish (Pomatomus saltator), Atlantic bonitos (Sarda sarda), Almaco jacks (Seriola rivoliana) and yellowmouth barracudas (Sphyraena viridensis), amongst other species that abound in this remote site.
The bottom of the reef drops abruptly to 25 metres with a maximum depth of 30 metres, and it features large blocks of rock with an abundant marine life, including curious grey triggerfish (Stephanolepis hispidus), blacktail combers (Serranus atricauda), parrotfish (Sparisoma cretense), colourful barred hogfish (Pseudolepidaplois scrofa) and schools of salema porgies (Sarpa salpa).