Baixa do Terceirense

Description
Access
Boat
25 min from the Santa Cruz da Graciosa Harbour, 10 minutes from the Praia Harbour
Ideal place for
Diving Technical
Underwater photography
Snorkeling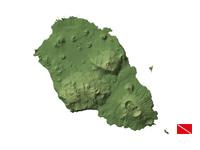 Baixa do Terceirense
With depths ranging from between 5 and 40 metres, depending on the diving profile you choose, this site is accessible to all experience levels.
The Baixa do Terceirense (Terceirense Reef) is located near the dive site Gruta do Carapacho, about 100 meters from the smallest of the Carapacho Islets and the bathing area, which is approximately three miles from the Praia Harbour.
The top of the reef forms a 5-metre deep platform, where you can find a variety of small colourful fish, namely Mediterranean rainbow wrasses (Coris julis), ornate wrasses (Thalassoma pavo), Azores chromis (Chromis limbata) and several species of moray eel.
From the top of the reef, the depth drops abruptly to a second, 16-metre deep platform. This is the ideal place to spot schools of pelagic species such as Almaco jacks (Seriola rivoliana), yellowmouth barracudas (Sphyraena viridensis), white trevallies (Pseudocaranx dentex) and Atlantic bonitos (Sarda sarda).
The depth drops again to another platform at 30 metres, where you can see several stretches of black coral (Antipathella wollastoni). As you head towards the bottom, a depth of 40 metres, you may spot dusky groupers (Epinephelus marginatus).