Baixa do Frade

Description
Access
Boat
15 minutes from the Vila Franca do Campo Marina, 60 minutes from the Ponta Delgada Marina.
Ideal place for
Night dive
Underwater photography
Diving Baptism
Snorkeling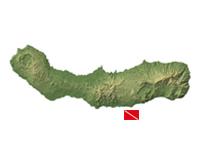 Baixa do Frade
Located about 20 metres from the coast, approximately three miles east of the Vila Franca do Campo Marina and close to the Ponta Garça Lighthouse, this is an excellent site for diving. With the top of the reef lying at a depth of just seven metres, this is also a great spot for snorkellers.
The top of the reef is home to a multitude of small colourful fish typical of the Azores, as well as small mystery blennies that find shelter in the empty barnacles. Heading east the reef  drops steeply to 14 metres, offering some fantastic stretches of black coral (Antipathes wollastoni) that is usually only found at greater depths.
Continuing to the east, the seafloor drops even deeper and you can sometimes see large common stingrays (Dasyatis parsnip). If you continue on this path you will come to a large rock formation with two small caves, where it is common to spot dusky groupers (Epinephelus marginatus) and  schools of pelagic fish such as white trevallies (Pseudocaranx dentex), Almaco jacks (Seriola rivoliana) and yellowmouth barracudas (Sphyraena viridensis).