Baixa do Buraco

Description
Access
By boat
5 min from the Vila do Corvo Quay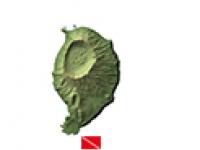 Baixa do Buraco
Located about 250 metres southwest of the Vila do Corvo Quay, the Baixa do Buraco (Hole Reef) emerges from a depth of 25 metres up to just 7 metres, and depending on the circuit you choose, a dive accessible to all.
The water is so clear that even from the boat it is often possible to see Almaco jacks (Seriola rivoliana) and grey triggerfish (Balistes carolinensis), which you can then follow as you dive.
At the top of the reef you will spot large schools of blue jack mackerels (Trachurus picturatus) surrounded by large pelagic fish, including yellowmouth barracudas (Sphyraena viridensis), Almaco jacks (Seriola rivoliana) and Bermuda chubs (Kyphosus sectator).
At greater depths marine life is exceptionally abundant, a consequence of the reduced fishing on this, the smallest island in the Azores. You can also visit a small cave (or hole, hence the name Hole Reef) where it is common to find a dusky grouper (Epinephelus marginatus).