Baixa de Entre-Morros
Description
Access
Boat
5 min from the Velas Harbour
Ideal place for
Night dive
Underwater photography
Diving Baptism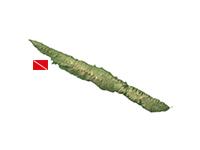 Baixa de Entre-Morros
Located in the sheltered Bay of Entre-Morros, this dive begins at an islet located along the wall of the hill, and descends to a depth of 10 metres. It is an excellent location for beginner dives, night dives and snorkelling.
In the area that surrounds the islet you can see schools of salema porgies (Sarpa salpa), an abundance of Azores chromis (Chromis limbata) and Canary damsel (Abudefduf luridus), as well as several species of moray eels and common octopus (Octopus vulgaris).
Moving towards the centre of the bay, the landscape gradually gives way to an area full of large blocks of rock. This continues until you get to the sandy seafloor at 21 metres. The transition area between the rocky and sandy floors is the ideal place for spotting wide-eyed flounders (Bothus podas), Atlantic lizardfish (Synodus saurus), and sometimes round stingrays (Taeniura grabata). It is also possible to see some pelagic species such as Atlantic bonitos (Sarda sarda), yellowmouth barracudas (Sphyraena viridensis) and grey triggerfish (Balistes capriscus).