Baixa da Feteira

Description
Access
Boat
30 min from the Horta Harbour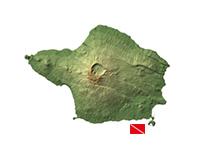 Baixa da Feteira
Despite the top of the Baixa da Feteira (Feteira Reef) being only 12 metres deep, this dive is only recommended for experienced divers as it is just half a mile from the coast in an area exposed to currents. It also has a maximum depth of 32 metres.
Located on the south coast of the island of Faial, close to the Feteiras Islet, the reef rises steeply from 30 to 12 metres deep, which means it is a great place to spot several pelagic species such as Atlantic bonitos (Sarda sarda) and yellowmouth barracudas (Sphyraena viridensis).
 On the south side you reach the deepest part of the dive at 32 metres, where the seafloor is covered with large stretches of black coral (Antipathella wollastoni) and European fan worms (Sabella spallanzanii). This is the ideal place to spot the resident and affable dusky grouper (Epinephelus marginatus). The north side of the reef is less deep, dropping to just 24 metres. It gives way to a landscape of large blocks of rock, each full of different species. These include blacktail combers (Serranus atricauda), surmullets (Mullus surmuletus) and common eagle rays (Myliobatis aquila).