Arcadas de São Roque

Description
Access
Coast
25 min by car from Madalena
Ideal place for
Night dive
Underwater photography
Diving Baptism
Snorkeling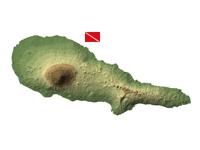 Arcadas de São Roque
In a quiet, sheltered area on Pico's north coast you will find the town of São Roque, where tide pools are the starting point of a beautiful dive in the Arcadas de São Roque (São Roque Arches), a great place for beginner dives, night dives and snorkelling.
The 3 metre deep tide pools are home to magnificent rock formations and impressive marine biodiversity, which are worth exploring before descending along the wall to a depth of 12 metres to the São Roque Arch. This impressive rock formation rises from the sea bed, almost touching the surface, and is covered with yellow cluster anemone (Parazoanthus axinellae), large schools of yellowmouth barracudas (Sphyraena viridensis) and colourful Azores chromis (Chromis limbata).
Leaving the São Roque Arch behind you will then move around 50 metres west to another arch-shaped rock formation which provides a spectacular end to the dive.