Âncoras do Ilhéu

Description
Access
Boat
2 minutes from the Vila Franca do Campo Marina, 45 minutes from the Ponta Delgada Marina.
Ideal place for
Night dive
Underwater photography
Diving Baptism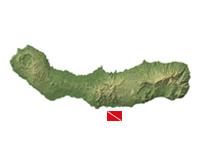 Âncoras do Ilhéu
The dive site consists of a small reef, about 40 m long, situated just off of the Vila Franca Marina, midway between the coast and the Vila Franca do Campo Islet. It has a number of archaeological remains, in particular centuries-old anchors, which bear witness to the historical importance of Vila Franca do Campo, the first capital of the island.
The site is 14 metres deep, with the sandy seafloor at a depth of 22 metres. There are approximately  a dozen anchors, the earliest dating back as far as 300 years ago and the largest over 2 metres long. Its proximity to the marine reserve of the Vila Franca do Campo Islet means this is also an interesting site for marine life. It is common to find several species of moray eels and nudibranchs, while along the sandy seafloor you may spot large common stingrays (Dasyatis pastinaca) and small surmullets (Mullus surmuletus).